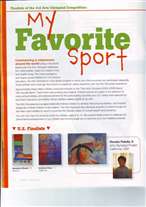 My Favorite Sport.JPG
Finalists of the 3rd ARTS OLYMPIAD COMPETITION:
Commencing in classrooms
around the world using structured
lesson plan the Arts Olympiad celebrates
the "artist-athlete" ideal of a creative mind
and healthy body. The most prestigious
and largest global initiative for 21st century
educationt, the Arts Olympiad is a free global program in which any child anywhere can participate; especially
those children who never get the chance to create art unless presented with the Arts Olympiad experience.

Approximatelty three million children produced art work on the Third Arts Olympiad (2 005-2008) theme
"My Favorite Sport". Each work was amazing and original. Children served as judges in the selection of
many school entries, and national winners for the participating countries and U.S, states were selected by
prominent educators and artists. Some children created digital art as well.

The Arts Olympiad encouraged artistically inclined children to develop their physical abilities, and inspired
athletically inclined children to be creative. The Arts Olympiad also develops empathy invoked through art
and team spirit instilled by sport to promote the Olympic ideals of mutual respect and tolerance.

You can now view he amazing works by children, ages 8 to 12. We present these works to celebrate the
phenomenal achievements of our children and to encourage you to advance your own creative potential.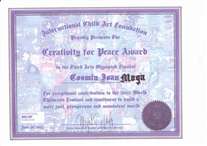 Diploma finalist.JPG
The Arts Olympiad
The Arts Olympiad of the International Child Art Foundation (ICAF) is the world's largest and most prestigious arts initiative for children. More than one million children participated in each of ICAF's two previous Arts Olympiads. This innovative global initiative commences with the distribution of free lesson plans to schools, art studios and community centers worldwide, and culminates in national and international events that are open to the public, and are held at prominent venues such as the National Mall in Washington, DC.
ICAF's third Arts Olympiad (2004-2008) links art and sport to bring art teachers together with physical education instructors and artists with athletes, so children realize they can accomplish anything, including becoming a leader or an 'artist-athlete.' The lesson plans bridge the worlds of art and sport by encouraging painting and digital art competitions on the theme, My Favorite Sport. Students uninterested in physical activity are inspired to engage in sports, and thereby combat childhood obesity. Students uninterested in art are inspired to become creative and empathetic. The young artists and the young athletes experience each other's world, sharpen their identity, and enhance their ability to prosper in open, pluralistic environments. Art competition finalists employ these new abilities and perspectives to celebrate the commonalities between cultures at the international festival, where they will receive global leadership training and make a commitment to promote peace, freedom and coexistence.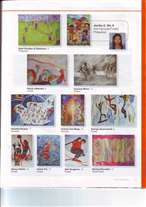 Cosmin Moga -finalist.JPG
Third Arts Olympiad
The Arts Olympiad (2004-2008) is based on ICAF's Peace Through Art & Sport Methodology® that incorporates the latest research and best practices in arts education, psychology and peace education to provide a five-stage approach to global peace building:
a) Creativity and self-expression: Structured lesson plans encourage creativity, physical health and global education and lead to artistic interpretations of the theme My Favorite Sport.
b) Confidence and decision-making skills: Students join teachers to select the school finalists, which boosts their self-esteem, objectivity and decision-making skills.
c) National peace building: Finalists from different states (provinces) come together at national events, where they apply their creativity to build a vision of cooperation and coexistence.
d) Regional peace building: Finalists at regional events celebrate their national identities, alleviate tension through art and sport, discover commonalities, recognize regional pride and express it in collaborative works of art.
e) Global peace building: Finalists from around the world attend an international celebration to learn universal values, acquire peace leadership skills, recognize the powers of their collaborative creativity, initiate lifelong friendships and make a commitment to promote peace.
ICAF is in discussion with the Beijing 2008 Olympics to integrate the Arts Olympiad into the Cultural Olympiad of the XXIX Olympiad. NYC2012 has partnered with ICAF and is using ICAF's Peace Through Art & Sport Methodology® to enhance New York City's bid to host the XXX Olympiad in 2012.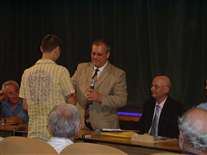 Romanian cosmonaut Dumitru Dorin Prunariu
Dumitru-Dorin Prunariu /du'mi.tru do'rin pru'na.rju/ (born September 27, 1952) is a Romanian cosmonaut.

Born on September 27, 1952 in Braşov, Romania, Dumitru Dorin Prunariu graduated from the Physics and Mathematics high school in Braşov in 1971 and from the University POLITEHNICA of Bucharest in 1976, obtaining a degree in Aerospace Engineering. D. Prunariu worked as a Diplomatic Engineer at "Industria Aeronautică Română IAR- Braşov", an aircraft industry facility, prior to enrolling in the Romanian Air Force Officers Training School in 1977.

He was selected for spaceflight training in 1978 as a part of the Intercosmos Program. Obtaining the maximum marks during three years of preparation he was selected for a joint space flight with the Russian cosmonaut Leonid Popov. In May 1981 they completed an eight- day space mission on board Soyuz 40 and the Salyut 6 space laboratory where they completed scientific experiments in the fields of astrophysics, space radiation, space technology, space medicine and biology. D. Prunariu became the 103rd human being flying into the Outer Space.

Additionally, D. Prunariu is a corresponding member of the International Academy of Astronautics (1992) and a member of the Romanian National COSPAR Committee (1994). In 1984 he was awarded the "Hermann Oberth Gold Medal" by the German Rocket Society "Hermann Oberth - Wernher von Braun". In 1985 joined the Association of Space Explorers (ASE), currently with a membership of more than 370 astronauts from 33 countries. Since 1993 until 2004 he has been the permanent representative of the Association of Space Explorers at the United Nations Committee on the Peaceful Uses of Outer Space (COPUOS) sessions. Since 1996 D. Prunariu has been a member of the Executive Committee of ASE for two terms of tree years. Since 1992 he is representing the Government of Romania to the UN COPUOS sessions.

Since 1995 D. Prunariu is the Vice-President of the International Institute for Risk, Security and Communication Management (EURISC), Bucharest.

Since 1998 to 2004 Prunariu was the President of the Romanian Space Agency, and from 2000 an Associate Professor on Geopolitics within the Faculty of International Business and Economics, Academy of Economic Studies, Bucharest, Romania. In 2004 he was elected as the Chairman of the Scientific and Technical Subcommittee of the UN COPUOS for a two years term. For 1,5 years starting with May 2004 he was the itinerary Ambassador Extraordinary and Plenipotentiary of Romania to the Russian Federation.

In the present time Prunariu is the President of the Board of the Romanian Space Agency and accomplishes the duties of the Director of the Romanian Office for Science and Technology to the European Union (ROST) in Brussels. In February 2007 he completely retired from the Ministry of Defense with the rank of two stars general, continuing to work on the same positions as a civilian servant.

D. Prunariu is a co-author of several books regarding space technology and space flight and presented, published numerous scientific papers. His PhD thesis produced new developments in the field of space flight dynamics.

Prunariu is married with two sons and two grandchildren.